Lyn, Ontario – Dive Ontario was able to interview Kay Nordman from the Ottawa National Diving Club.
Kay is quite an inspiring diver who enjoys progressing their skills while having fun. The pool is Kay's home away from home, it is where they can be themselves without fear of judgment!
Please enjoy our interview with Kay!
Q: At what age did you begin to dive?
I was 10 years old when I started diving.
Q: What does diving mean to you?
Diving is my home away from home, where I can unequivocally be me without judgment.
Q: Why did you start diving?
My aunt used to have a diving board in her backyard and I really loved jumping off of it!
Q: What keeps you motivated?
I always want to be stronger than I am, so seeing that improvement keeps me going.
Q: Favourite dive?
5132D (specifically on 3m)
Q: What is your greatest diving accomplishment?
I was only a few points off of the national qualifying score at my very first National meet!
Q: Do you play other sports?
I love skateboarding! I know a few tricks, but I really just enjoy cruising on my board more than anything.
Q: What is your favourite memory from diving?
I don't think I can choose just one!
Q: Favourite exercise?
I like doing headstands, preferably in pike or straddle!
Q: What are some lessons you have learned since you began diving?
Sometimes you get stuck inside your head, and it seems like there's nothing you can do. Everything feels stuck. It's okay to feel that way, but you have to realize that it won't change until you try.
Q: Favourite quote?
"I always felt that my greatest asset was not my physical ability, but my mental ability." – Caitlyn Jenner
Q: What is your biggest fear while diving?
Probably landing with my hands apart, especially off of 10M.
Q: What is your favourite pool to dive in?
Probably TPASC, but if not the Nepean Sportsplex (which is my home pool).
Q: Favourite workout song?
The Cult of Dionysus by The Orion Experience.
Q: What is the best part of competing?
Training at a new/different pool! It's nice to have a change of scenery every once in a while.
Q: Who is your biggest cheerleader/support?
My teammates, all the way!
Q: Who is your diving role model?
Meaghan Benfeito or Caeli McKay
Q: What are your long-term goals for diving?
Honestly, I just want to have fun doing a sport that I love. Anything else that comes with it would be amazing, but I want to make sure I still enjoy what I do.
Q: Do you have a pre-competition routine?
I don't know about a pre-competition routine, but I like reading in between my turns in competition.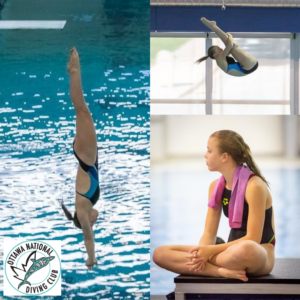 -30-
Stay tuned for more Poolside Profiles!