Mississauga, Ontario – Dive Ontario was able to interview Jocelyn Casey from Windsor Diving Club.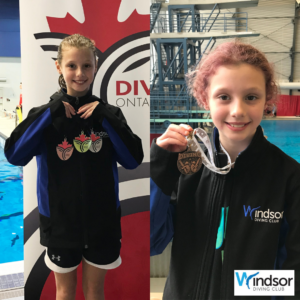 Jocelyn is strong and determined. She and diving go hand-in-hand, as it keeps her motivated in her everyday life. Jocelyn hopes to pursue diving long-term, so she can continue to compete and do what she loves, with her family and friends watching and supporting.
Please enjoy our interview with Jocelyn!
Q: At what age did you begin to dive?
8.
Q: What does diving mean to you?
Diving is a part of who I am. It motivates me when I wake up in the morning.
Q: Why did you start diving?
I started diving because I wanted to do something new.
Q: What keeps you motivated?
I jump on my trampoline and go swimming with my friends.
Q: Favourite dive?
Back 1 1\2.
Q: What is your greatest accomplishment as a diver?
Getting a qualifying score before COVID (1 of 2).
Q: Favourite memory from diving?
When I competed in Windsor and my family and friends got to watch.
Q: Favourite exercise?
Press handstand.
Q: What are some lessons you have learned since you began diving?
Don't swim in hotel pools on competition weekends.
Q: Favourite Sports quote?
"Go hard or go home".
Q: Biggest fear while diving?
Hitting the board\tower.
Q: What is the best part about competing?
I just like to dive.
Q: Who is your biggest cheerleader/supporter?
My mom.
Q: What are your long-term goals for diving?
Join a diving team in college/university.
Q: Do you have a pre-competition routine?
Eat snacks.
And now, a Poolside Personality speed-round!
Q: Do prefer sweet or savory snacks?
Sweet.
Q: Favourite movie?
The Maze Runner and Grown Ups.
Q: Favourite book?
Alice Through The Looking Glass.
Q: Favourite song?
I don't really have one.
Q: Favourite season?
Summer.
Q: Favourite subject in school?
Art.
Q: If you were an animal, what animal would you be? Why?
I would be an ant because they are super strong.
Q: If you weren't diving, what would you be doing?
I would be doing Gymnastics or school.
Q: Favourite place in the world you've visited/place you would like to visit most?
Cuba.
Q: Favourite hobby?
Swim and play with friends.
Stay tuned for more poolside profiles!
-30-